Additional info HANGING SYSTEMS
SLING hanging straps
SLING is made of high quality buffalo leather. This somewhat thicker type of leather gives the hanging straps a tough look. The leather has a semi-gloss finish. Close SLING by pressing the keyhole, at the
end of the strap, on the metal chrome button. Open SLING by pulling the strap off the metal stud. In the beginning this can be a bit harder due to the thick quality of the leather. Hanging SLING is easily done with a screw (not included). Use the hole (5 mm) above the metal button for this.

Choose the right SLING in 3 steps:
 1.   Choose the right width.




 2.   Choose the right length: Small, Medium of Large.
 
  

 
 3.   Choose from one of five colors and order!
 


In addition to hanging strap in buffalo leather, NOOBLU also offers Limited Edition SLINGs. These are made of leathers with special prints or characteristics.


SHELV shelf supports
SHELV is in a class of its own. A set of these shelf supports can carry a weight of no less than 30 kg. As a result, in addition to wooden shelves, SHELV can be easily combined with heavier shelves made of, for example, natural stone or glass. The length of the shelf supports is easy to adjust by means of the button-keyhole closure. SHELV is suitable for shelves with a width of up to 25 cm. NOOBLU has extenders for wider planks up to 40 cm. These extensions are available separately including an extra ring for strain relief. SHELV+ sets include extenders.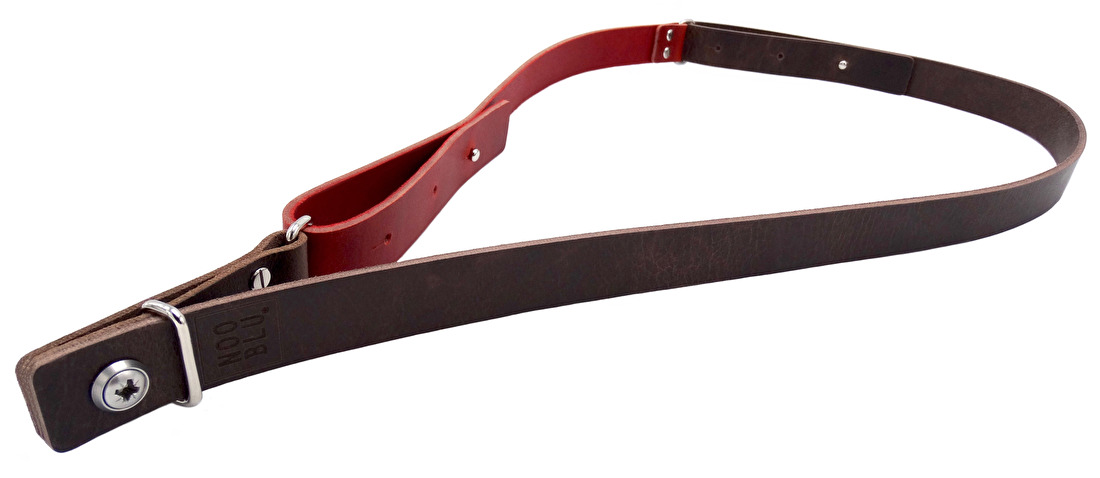 The leather straps have a width of 3 cm. The extremely strong 4 mm thick buffalo leather is vegetable tanned and of high quality. All SHELV sets are supplied complete including solid mounting material. This consists of stainless steel screws (6 x 60 mm), ditto greases and special Fisher Duo wall plugs (drill size 8 mm).

NOOBLU leathercare
NOOBLU suspension systems require little maintenance. Cleaning is easy with a soft, lint-free (microfiber) cloth. For a long lifespan we recommend our specially developed leathercare products.